Monsanto Roundup weedkiller and GM maize implicated in 'shocking' new cancer study
19 Sep 2012 | By Elinor Zuke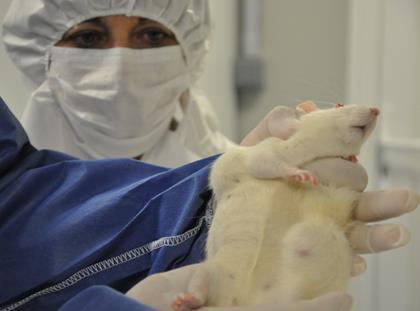 The world's best-selling weedkiller, and a genetically modified maize resistant to it, can cause tumours, multiple organ damage and lead to premature death, new research published today reveals.
In the first ever study to examine the long-term effects of Monsanto's Roundup weedkiller, or the NK603 Roundup-resistant GM maize also developed by Monsanto, scientists found that rats exposed to even the smallest amounts, developed mammary tumours and severe liver and kidney damage as early as four months in males, and seven months for females, compared with 23 and 14 months respectively for a control group.
"This research shows an extraordinary number of tumours developing earlier and more aggressively – particularly in female animals. I am shocked by the extreme negative health impacts," said Dr Michael Antoniou, molecular biologist at King's College London, and a member of CRIIGEN, the independent scientific council which supported the research.
GM crops have been approved for human consumption on the basis of 90-day animal feeding trials. But three months is the equivalent of late adolescence in rats, who can live for almost two years (700 days), and there have long been calls to study the effects over the course of a lifetime.
The peer-reviewed study, conducted by a team of researchers at the University of Caen, found that rats fed on a diet containing NK603 Roundup resistant GM maize, or given water containing Roundup at levels permitted in drinking water, over a two-year period, died significantly earlier than rats fed on a standard diet.
Up to half the male rats and 70% of females died prematurely, compared with only 30% and 20% in the control group. Across both sexes the researchers found that rats fed Roundup in their water or NK603 developed two to three times more large tumours than the control group. By the beginning of the 24th month, 50-80% of females in all treated groups had developed large tumours, with up to three per animal.
By contrast, only 30% of the control group were affected. Scientists reported the tumours "were deleterious to health due to [their] very large size," making it difficult for the rats to breathe, [and] causing problems with their digestion which resulted in haemorrhaging.
The paper, published in the scientific journal Food and Chemical Toxicology today, concluded that NK603 and Roundup caused similar damage to the rats' health, whether they were consumed together or on their own. The team also found that even the lowest doses of Roundup, which fall well within authorised limits in drinking tap water, were associated with severe health problems.
"The rat has long been used as a surrogate for human toxicity. All new pharmaceutical, agricultural and household substances are, prior to their approval, tested on rats. This is as good an indicator as we can expect that the consumption of GM maize and the herbicide Roundup, impacts seriously on human health," Antoniou added.
Roundup is widely available in the UK, and is recommended on Gardeners Question Time. But this also represents a potential blow for the growth of GM Foods.
Read the rest of the article here: The Grocer